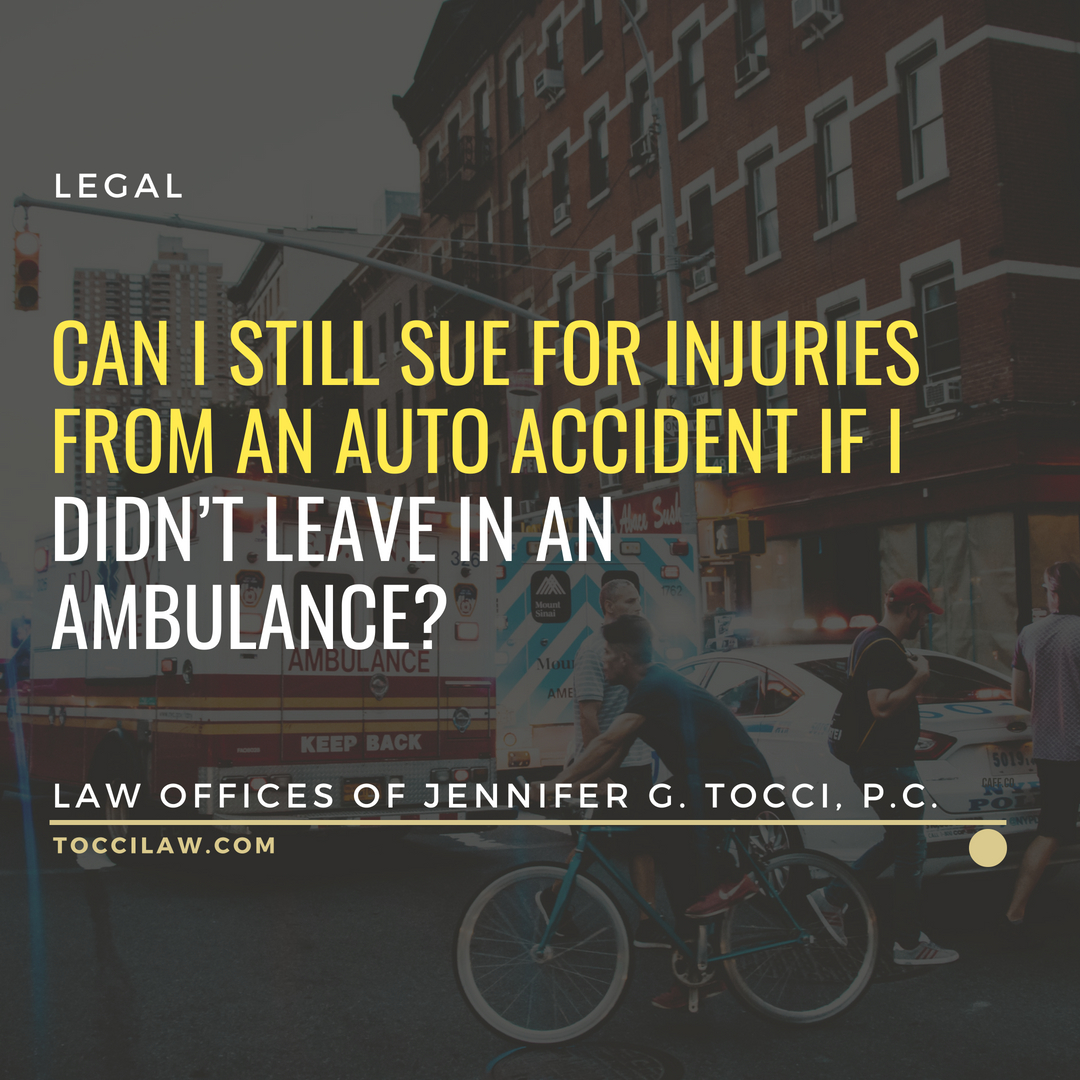 How long can I wait to be treated for injuries and still successfully sue?
Even the smallest car accidents can be traumatic events. When you're rattled, shaken up and in shock, it is difficult to think rationally. At times, emotions can override a person's ability to notice that they've suffered a serious injury. Pain is often not felt due to the body's emotional reaction. Alternatively, at the scene, some people think it is better to see a doctor at a later time than to leave in an ambulance immediately. Then they wonder if they are able to sue for their broken arm because they didn't leave in an ambulance right away.
Can I still sue if I didn't leave in an ambulance?
If you are ever in a car accident and for any reason to believe you may be injured, it is best to leave in an ambulance- even where you believe the injury may not be serious or in need of immediate medical attention. When your injuries are documented straightaway after an accident, the defendant has a harder time claiming your injuries were not the result of his/her negligence. However, if you've previously been in a car accident, and did not leave in an ambulance, it does not bar you from being able to successfully sue the driver. If you are injured as the result of a car accident due to someone else's negligence, you can still sue even if you did not leave in an ambulance right away. There is no legal requirement that you must leave in an ambulance in order to have a strong lawsuit against an at-fault party.
How long can I wait to be treated for my injuries and not compromise my lawsuit?
The sooner you seek treatment, the better. However, plenty of people decide to visit a physician after the accident, rather than leaving in an ambulance, when they do not believe they require immediate emergency medical care. Seeking medical treatment within 72 hours is best not only for any potential settlement funds, but to ensure that your injuries are being taken care of and not worsening from lack of treatment. Undiagnosed injuries can become much worse by failing to treat them at the outset. Even if you believe you are fine, it is best to be evaluated by a doctor. Sometimes, people suffer injuries that do not appear right away. This is one reason it is best to seek medical attention even if you feel fine; however, if you failed to see a physician, you should see one as soon as you begin to feel pain. Let your treating physician know that you have been in an accident, so he/she can document it in your medical records. Additionally, your doctor will be able to determine with a reasonable degree of medical certainty whether your injuries are the result of the car accident. Having this documented in your medical records could be the difference between a strong and weak case.
The law provides you with 3 years from the date of an accident to file a personal injury lawsuit (also known as the statute of limitations). This means that the law gives you time to discover your injuries before requiring you to start a lawsuit. If you do not suffer from injuries within 3 years, you cannot sue even if those injuries are in fact a result of the car accident. But if you seek medical treatment for the first time months or years after the accident, even if you have been suffering from your injuries the entire time, you will have a weaker lawsuit. This is because it will be harder to show that your injuries are a result of the accident and that they are in fact "serious injuries." In order to successfully sue an at-fault driver in New York, you must have suffered a "serious injury" as defined by the law. (See our blog explaining threshold injuries: How injured from an auto accident do you need to be to start a lawsuit in New York?)
What if my injuries don't show up right away?
Concussions and soft tissue injures are often not immediately apparent. Because they are unable to be diagnosed by an X-ray, they can be difficult to diagnose if there are no pain or other symptoms. With soft tissue injuries, symptoms appear later on because the swelling and reduced mobility takes time to manifest. Concussions can cause confusion, and the symptoms may be ignored or dismissed as something else, such as a headache; however, they can be extremely serious. At the first sign of any injury, you should seek medical treatment.
What should I keep in mind?
No-Fault insurance is medical insurance coverage that accompanies every auto insurance policy in New York. Generally, the insurance companies require your No-Fault application be filed within 30 days of the accident. This means that if you plan on visiting a physician, you should file immediately. Failing to file for No-Fault benefits can result in you having to pay for your medical treatment out of pocket or having your health insurance cover it, and then there would be a lien for medical expenses included with your lawsuit. This could potentially lower your financial recovery for pain and suffering.
The bottom line is that you do not need to leave in an ambulance to sue; however, the sooner you do seek medical treatment, the stronger your chance of physical recovery and the stronger your personal injury lawsuit will be. Every case is different. You should speak with an attorney about your specific matter. If you've been injured in an accident, schedule a free 30-minute consultation with a skilled attorney at the Law Offices of Jennifer G. Tocci, P.C. to discuss your rights and options (631) 343-7676.
Attorney Advertising. This blog post is designed for general information only. The information presented at this site should not be construed to be neither formal legal advice nor the formation of a lawyer-client relationship. Prior results do not guarantee a similar outcome. New York State only.