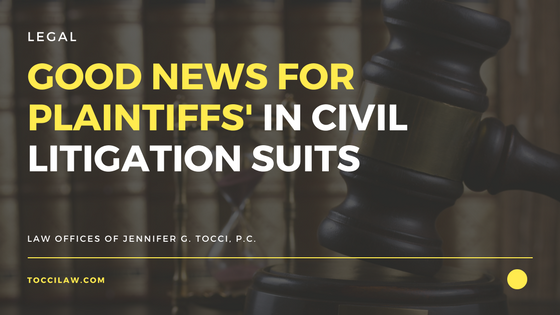 There is new case law that is favorable to plaintiffs in negligence/ personal injury cases. The New York Court of Appeals recently removed a hurdle for Plaintiffs in these cases. Plaintiffs no longer have to prove that they were not negligent when suing another party for negligence. Due to conflicting case law, this new decision removed a large burden for people seeking damages in civil litigation.
What is Summary Judgment?
Frequently, after negligence/personal injury lawsuits are started, they end with a summary judgment motion, prior to the case proceeding to trial. During litigation, cases can be disposed of without going to trial if a summary judgment is granted. Summary Judgment is a procedural device used during civil litigation to promptly and expeditiously dispose of a case, or portions of it, without a trial When there are no more factual issues that remain and only issues of law exist, the judge can decide the case and the case will not proceed to trial. It is not uncommon for both parties in a lawsuit seek a summary judgment. Evidence that was prepared for trial, affidavits, and depositions all may be considered in order to grant a partial summary judgment.
Good News For Plaintiffs
In New York, in order to receive a partial summary judgment in a negligence case, the Plaintiff formerly had to prove that they themselves were not negligent. The Plaintiff was tasked with the "double burden" of disproving his/her own negligence in order to win a partial summary judgment. This month, the New York Court of Appeals decided that this was an unfair burden on the Plaintiff. Now, a Plaintiff can seek a partial summary judgment without having this burden of proving themselves not negligent. Due to the new case law, even where a Plaintiff is negligent, he/she can still recover for damages as long as the other side was negligent. This frees Plaintiffs of an unfair burden. This new law will help expedite the settling of more cases and allow other cases to proceed to trial that would have previously been dismissed. If a Plaintiff doesn't want to continue to trial they are no longer subject to unfair burdens of proof that work against them.
If you or a loved one has been in an accident, and you wish to speak to a skilled attorney about your rights, call the Law Offices of Jennifer G. Tocci, P.C., for a free thirty-minute consultation (631) 343-7676.
Attorney Advertising. This blog post is designed for general information only. The information presented at this site should not be construed to be neither formal legal advice nor the formation of a lawyer-client relationship. Prior results do not guarantee a similar outcome. New York State only.