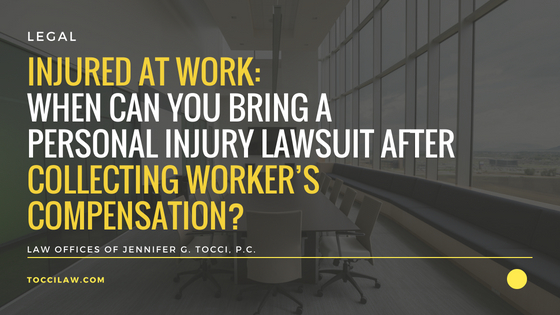 New York State Workers' Compensation entitles employees to benefits for work-related injures, regardless of who is at fault. It facilitates payment for injuries, eliminating the lengthy process of a lawsuit and the requirement to prove liability. In exchange, New York Law protects employers from being sued by their employees for illnesses and accidents that occur on the job if they carry Workers' Compensation Insurance. In New York State, almost all employers must maintain Workers' Compensation Insurance. This compensation is the typical and exclusive remedy for work-related injuries and illnesses. If there are Worker's Compensation benefits available, the employee is unable to commence a lawsuit against his/her employer, except under rare and specific circumstances.
[Sidebar for business owners: Almost all businesses with employees require Workers' Compensation Insurance. Your business must be legally exempt to not carry this insurance.]
You must actually be considered an employee to be covered under the employer's Workers' Compensation Insurance. Your attorney will be able to assist you in determining whether you are considered an employee under the workers compensation law. For example, volunteers, New York City police officers, firefighters and sanitations workers are among the few that aren't covered. Contrarily, unpaid student interns are generally considered employees under the definitions of the Workers' Compensation Benefits.
What are the Rare Circumstances Where a Lawsuit May Also Be Commenced?
Although Workers' Compensation was created to prevent employee-employer lawsuits, there are certain circumstances where an injured employee has a right to commence a personal injury lawsuit. In order to have a personal injury lawsuit, your attorney must be able to prove your injury/illness was due to the negligence of another person. Injuries/illnesses involving these circumstances may permit you to file a personal injury lawsuit, despite having collected Workers' Compensation benefits:
Injuries involving a defective product;
Injuries involving a toxic substance;
Injuries occurring due to an employer's intentional conduct;
Injuries occurring in a workplace that does not have Workers' Compensation Insurance (or has failed to obtain the insurance);
Injuries resulting from the negligence of a third-party
If you feel your injuries fit into any of these criteria, you may be able to begin a personal injury lawsuit. You should contact a skilled attorney in order to help you assess and build your case. [Sidebar: there are short time restraints for filing Workers' Compensation Claims, and in cases where you may sue your employer or a third-party, a notice of claim may need to be filed shortly after the incident. It is important to consult with your attorney as soon as you are able.]
With a personal injury lawsuit, you are not limited to the amount of money you can receive, unlike with Workers' Compensation. In a personal injury lawsuit, you are able to sue for lost wages, reimbursement from medical treatment, damages from pain and suffering, and compensation for permanent impairment, in addition to other damages. In Worker's Compensation claims, you cannot collect money for pain and suffering.
[Sidebar: New York State Disability Insurance is not the same as, or governed by the same laws as Workers' Compensation.]
Lawsuits Against Third-Parties:
Where you were injured on the job, but a non-employer shares the fault, you may sue the third-party despite collecting Worker's Compensation benefits. Contractors or subcontractors on a job site may be at least partially at fault, having contributing to your accident. The Workers' Compensation Laws do not bar you from suing legally responsible contractors and subcontractors, who do not employ you. Similarly, where you are in an automobile/truck accident on the job, and you collect Worker's Compensation benefits, you are not barred from suing a negligent driver. Additionally, if you slip and fall on the property not owned by your employer while on the job, even if you're collecting Workers' Compensation you might still be permitted to sue the property owner.
A skilled attorney will be able to assess your case to see if you are eligible to start a personal injury action for injuries that have been covered by Workers' Compensation. The Law Offices of Jennifer G. Tocci, P.C., handles the third-party/personal injury lawsuit and works with a Workers' Compensation law firm that handles Workers' Comp., claims. For a free case evaluation regarding a personal injury lawsuit and/or a referral to our trusted Workers' Compensation law firm call the Law Offices of Jennifer G. Tocci, P.C., (631) 343-7676.
Attorney Advertising. This blog post is designed for general information only. The information presented at this site should not be construed to be neither formal legal advice nor the formation of a lawyer-client relationship. Prior results do not guarantee a similar outcome. New York State only.