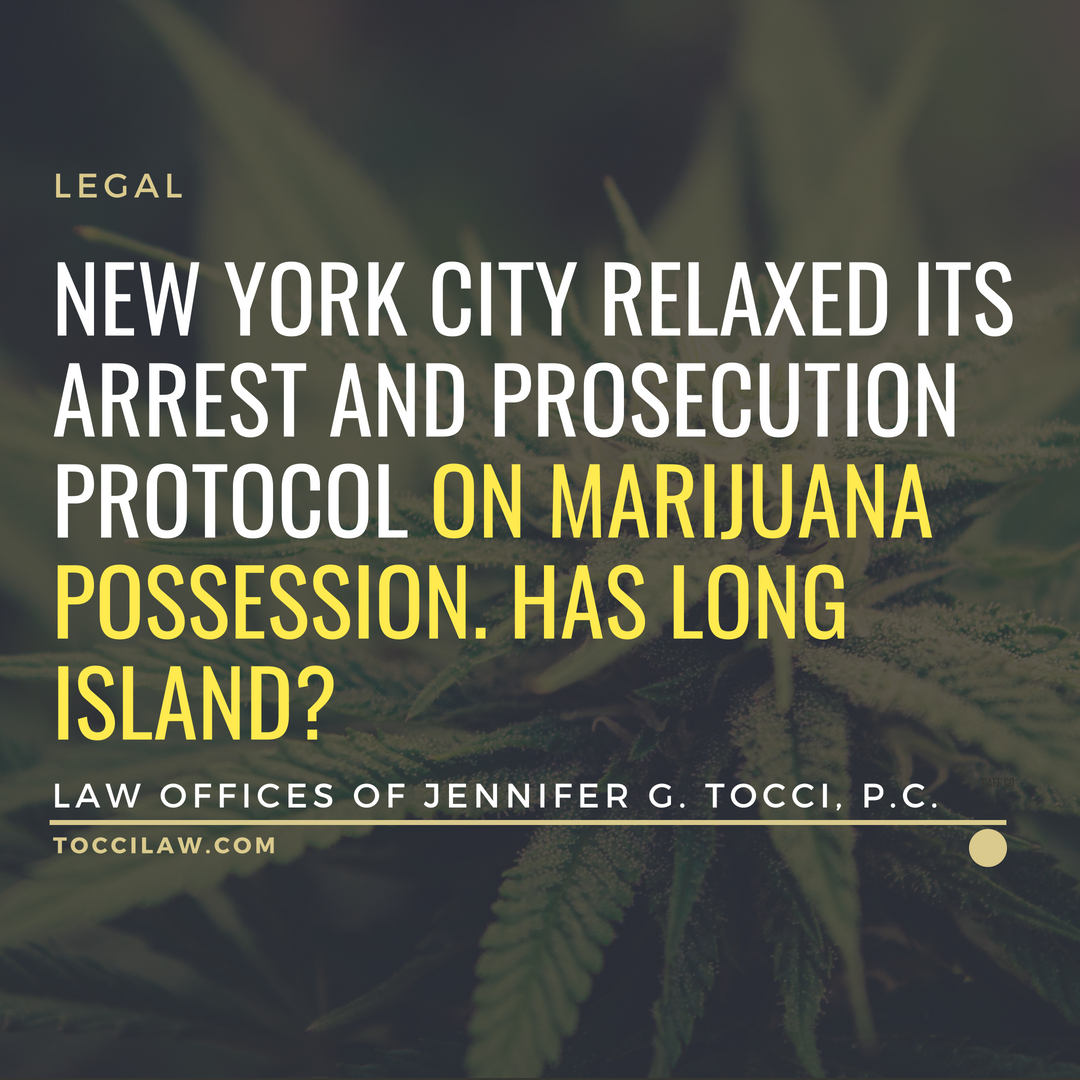 At this time, recreational marijuana use is still illegal in New York State. In New York, the legal consequences of marijuana possession can range from a fine to a felony conviction and up to 15 years in prison.  [Sidebar: this information is for marijuana possession only- sale, cultivation, possession of drug paraphernalia, driving under the influence, etc., are not legally the same.]  In addition to legal repercussions, having a conviction for marijuana possession on your record may prevent you from gaining and maintaining employment, keeping a professional license, receiving financial aid for school, and interfere with custodial rights of your children.  [Sidebar: a marijuana possession conviction can have a devastating effect on your citizen application.]
Recently, the New York City Police Department changed its protocol on arrests for certain marijuana crimes. Likewise, the Manhattan District Attorney's Office changed its policy on prosecution of certain marijuana cases. Although recreational use of marijuana is illegal in all of New York State, depending on your location and how much marijuana you are in possession of will determine whether the police department will arrest you and then whether the District Attorney's Office will prosecute you.
Police Departments:
Effective September 1, 2018, New York City Police will change its protocol, declining to arrest for low-level marijuana crimes and violations.  Therefore, if you are caught in possession of marijuana in NYC, you may receive a ticket instead of being arrested, handcuffed, taken to the station, fingerprinted and booked. [Sidebar: this does not exempt you from being arrested for other crimes in NYC. For example, if you are caught driving while smoking marijuana, you can be arrested for driving under the influence and marijuana possession.] Despite not being arrested, the tickets issued will still have the effect of an arrest.  This means that even though you are issued a ticket instead of being hauled away in handcuffs, you will still need to appear in court and answer the (potentially criminal) charges.  There are several exceptions, for example, people who have a criminal background may still be arrested for marijuana possession in NYC.  NYPD officers will still be permitted to stop and search people who they believe are in possession of marijuana.  Despite these changes in NYPD protocol, Suffolk and Nassau Police Departments have formally declined to follow NYC's progressive and relaxed approach.  Suffolk and Nassau Police Departments will continue to arrest for possession of marijuana.
District Attorney's Offices:
Whether the police arrest you or not, as of August 1, 2018, the Manhattan District Attorney's office will no longer prosecute for possession (and use) of "small" amounts of marijuana. [Sidebar: "small" amounts have yet to be officially defined.]  However, the Bronx, Queens, and Staten Island District Attorney's Offices will continue to prosecute marijuana possession crimes.  Nassau and Suffolk District Attorney's Offices will also continue to prosecute (and the police departments will continue to arrest) for all marijuana crimes, consistent with New York State law.
If you have been arrested for any crime in Suffolk or Nassau County and wish to discuss your rights with a skilled attorney, we invite you to make an appointment with the Law Offices of Jennifer G. Tocci, P.C., to have one of our attorneys will evaluate your specific case and potential defenses.
Attorney Advertising. This blog post is designed for general information only. The information presented at this site should not be construed to be neither formal legal advice nor the formation of a lawyer-client relationship. Prior results do not guarantee a similar outcome. New York State only.