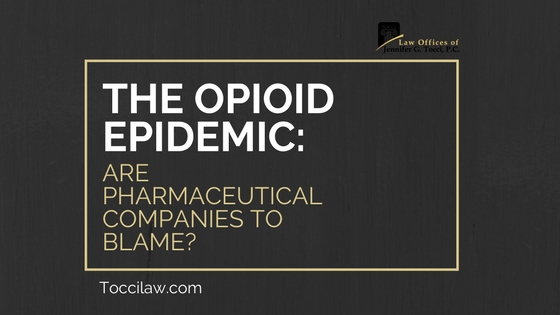 Suffolk and Nassau Counties have both filed separate lawsuits against nearly two-dozen pharmaceutical manufacturers, distributors, and doctors.
The suit accuses drug companies and physicians of exacerbating the county's opioid epidemic. Suffolk County's lawsuit seeks damages to cover increased county Medicaid costs, rehabilitation programs, law enforcement and the medical examiner expenditures. The County will also seek ongoing payment for opioid education programs and reforms to company practices.
In addition, recently, New York City and Albany each separately filed lawsuits against the pharmaceutical companies that manufacture certain opioids. These municipalities are claiming that the pharmaceutical companies made false claims regarding the safety and risk factors of opioid use and their addictive qualities. New York and Albany have accused pharmaceutical companies of concealing the addictive properties of the drugs and misleading doctors and the public about health benefits. Each plaintiff is seeking reimbursement for the overwhelming financial burden it continues to spend on emergency costs, child-protective services, law-enforcement costs, and other services to combat opioid addiction and overdose.
The opioids included in the lawsuits are OxyContin (oxycodone), Butrans, Hysingla ER, Actiq (fentanyl), Fentora (fentanyl), Opana/Opana ER (Blue Heaven), Percodan (oxycodone and aspirin), Percocet (oxycodone), Zydone and Duragesic (fentanyl).
How are the drug companies to blame?
Drug companies market opioids as harmless painkillers. The drug companies are aware that its products have serious adverse side effects, such as chemical dependency and addiction, yet avoid fairly disclosing it.
The plaintiffs' claim is that the pharmaceutical companies made false claims while instructing prescribers and patients about safety and risk of opioids, especially those predisposed to addiction. Despite having the knowledge, the pharmaceutical companies instructed its prescribers to ignore potential addiction signs in patients. They inflated and overstated long-term health benefits of taking the medication as prescribed. Further, they concealed that they were knowingly misleading patients and most negligently informed doctors that they could up dosages without additional risk.
In 2007, Purdue (one of the pharmaceutical companies who is a defendant in the current lawsuits) and three of its executives were convicted of federal criminal charges for deceptively marketing opioids. Twenty-six states were part of a multi-million dollar settlement with the company.
In 2015 and 2016, Purdue and Endo (two of the pharmaceutical companies who are defendants in the current lawsuits) entered into a settlement with the New York Attorney General over their deceptive and misleading practices and to establish abuse detection and diversion programs for opioid use. Both companies failed to correct their deceptive and misleading conduct and detection and diversion programs were never created.
Meanwhile, the number of people abusing opioids continues to grow while the companies continue to make hundreds of billions of dollars off their suffering.
What are the damages?
The CDC stated that the opioid crisis is a "public health epidemic."
Each county spends millions of dollars a year, just to fight the opioid crisis. This money is used for supplying Naloxone (or "Narcan" which stops an overdose), providing training, implementing and running programs to find and stop the distribution of illegal drugs, and connecting addicts with treatment resources.
Suffolk County has the highest rate of overdose deaths in New York State. On Long Island, there were an estimated 600 deaths from opioid overdoses in 2017. Suffolk County had an estimated 400 opioid overdoses. Nassau County had 195 overdoses. In the past two years, the number of opioid overdoses on Long Island increased by 55%. In the United States, overdose deaths from opioids reached 64,000 in 2017. Last year, opioids led to more deaths than car or gun accidents. Opioids have become the most prescribed class of drugs.
Suffolk and Nassau counties spend millions of dollars combating the effects of opioid use and abuse.
What does this mean for individuals affected by opioid addiction?
So far, individuals who filed lawsuits against pharmaceutical companies are rarely successful. However, if these New York municipalities are successful in their lawsuits, this may change. Individuals who are harmed by the addictive properties of opioids may have an opportunity to seek damages. Any damages recovered by the municipalities will likely be needed to continue all opioid abuse management and programs.
Attorney Advertising. This blog post is designed for general information only. The information presented at this site should not be construed to be neither formal legal advice nor the formation of a lawyer-client relationship. Prior results do not guarantee a similar outcome. New York State only.