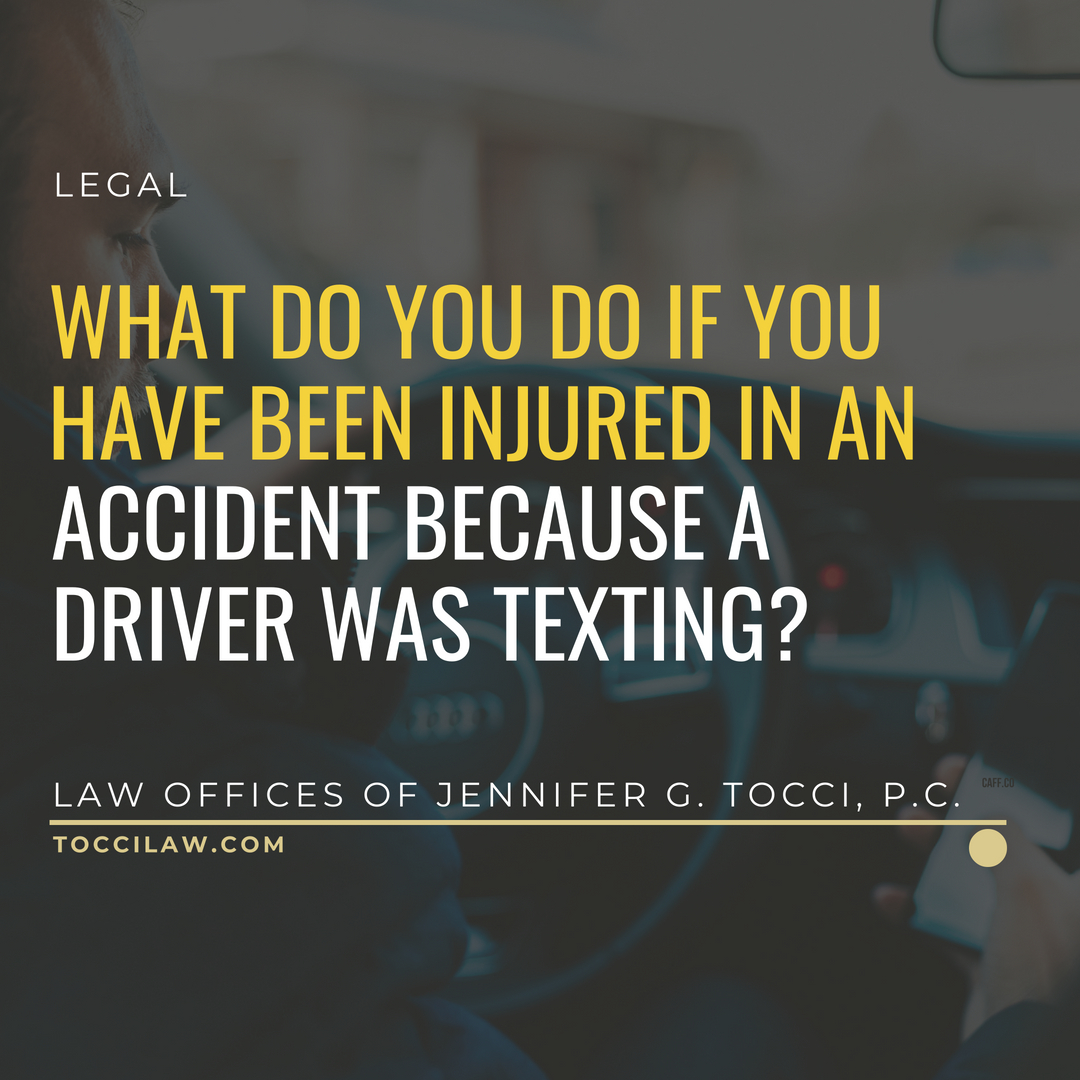 Texting or using your cell phone while you operate your vehicle is a form of distracted driving. Distracted driving, texting and driving, and using a mobile device while driving is illegal in New York State. Texting and driving is estimated to cause nearly 25% of all car accidents. [Sidebar: That's 6x more frequent than an accident caused by a drunk driver.] According to the Department of Transportation, distracted drivers have claimed 3,450 lives and injured more than 39,100 in 2016 alone. Therefore, if you're in an accident, it is not unlikely that the cause of the accident could be due to a driver distracted by a cell phone.
[Sidebar: Texting and driving is illegal, and a ticket for using your cell phone while driving is a 5-point infraction with up to a $450 fine plus surcharges.]
Being distracted by your device while driving isn't limited to texting; it includes using the GPS, talking on your phone, using apps, browsing the web, playing games, reading, typing, dictating, facebooking, instagraming, snapchatting, viewing images and videos, video recording and taking pictures. Teenagers are far more likely to text and drive than drivers of any other age group. [Sidebar: Drivers with a probationary period (i.e.: junior drivers with a Class DJ, Class MJ, or a Learner Permit) who receive a ticket for texting and driving will have their license suspended for 120 days after the first offense.]
What do you do if you've been injured in an accident caused by someone texting and driving?
Hire a skilled lawyer to act in your best interest as soon as you are able. You cannot trust any of the involved insurance companies, even your own provider! At-fault drivers and insurance companies will often dispute that texting and driving was the cause of the accident. If you cannot prove that another driver was texting, it could limit your ability to hold them liable and have them compensate you for your injuries. Evidence in texting and driving cases is usually only obtainable for a short period of time. You should hire an attorney that will be able to perform a proper and thorough investigation and build solid proof on your behalf. It is important to have the at-fault driver's cell phone records subpoenaed. The accident location and involved vehicles should be assessed and searched to discover all video and surveillance cameras. Any existing video recordings should be requested, subpoenaed, and the individuals who possess these recordings should be made to save them. Any and all witnesses should be identified and interviewed. Any and all traffic tickets issued should be examined. The police report should be inspected. Your specific situation should be assessed to determine what type of evidence might exist and it should be uncovered and obtained immediately. A strong attorney like the attorneys at the Law Office of Jennifer G. Tocci, P.C. will be able to hold the negligent driver accountable.
If someone who was texting and driving has injured you, our legal team has experience and the investigative skills to skillfully handle your case. Call the Law Offices of Jennifer G. Tocci, P.C. for a free thirty-minute consultation (631) 343-7676.
Attorney Advertising. This blog post is designed for general information only. The information presented at this site should not be construed to be neither formal legal advice nor the formation of a lawyer-client relationship. Prior results do not guarantee a similar outcome. New York State only.