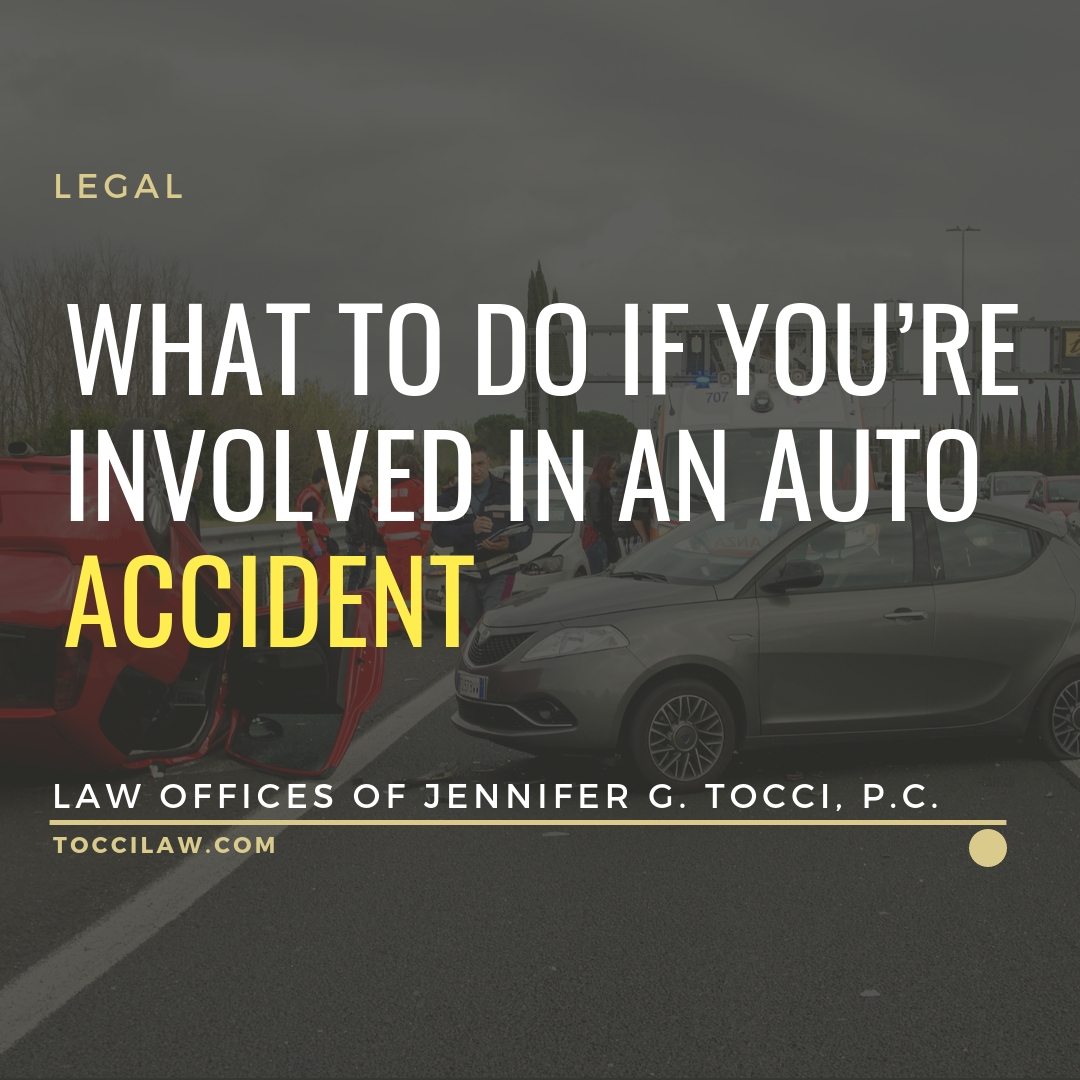 Although what to do when you're in an auto accident may seem like common sense, knowing the repercussions of the choices you make at the scene beforehand can help you make the best decision in the moment. Injuries and emotions may cloud your judgment. Having a clear plan in the back of your mind should you ever be in an accident will reduce your risk of causing more damage or compromising your legal rights.
First and foremost, stay calm. Always make safety your primary concern. Check yourself for injuries before exiting the vehicle. Then check your passengers for injuries. If you are able to leave the vehicle, ask the other people involved if they are okay. That should be your very first question to the other driver. Don't discuss who is at fault or what went wrong. Check on everyone's wellbeing. Asking the other driver if he/she is okay will also set the tone for your interaction. A lot of times people are angered or scared after an accident. If you're pleasant and caring, it can make the situation transgress more amicably.
If the accident is minor, do not block the road- pull off to the side. You do not want to risk being in a subsequent accident because you're blocking the road.
In a serious accident, where anyone is injured, or the car is disabled, do not move the vehicles.
Call the police whenever there is personal injury or serious damage to vehicles. (More on this below.)
Use flares and flag traffic away from the scene until the police arrive. Do not proceed into the middle of the road to gather items that have fallen off of the vehicles or out of the cars.
Each driver should exchange information, including name, address, insurance company, license plate number, registration, etc.
Take pictures! This can be the best thing you do. You don't want someone blaming you for more damage than you caused, and you don't want someone claiming your vehicle wasn't as bad at the scene.
Do not make an admission of fault to the police or any other driver. Sentences like, I didn't see the vehicle, or I am not sure if the light were red, will be used as admissions of guilt.
Always, always, always cooperate with the police if they are at the scene!
Should the police be called to the scene?
You're almost always better off calling the police, although it is not a legal requirement. In every significant accident, where there is property damage and/or personal injury of any magnitude, your insurance company requires you to report it. Most companies require you to do so within 24 hours, or as soon as you are physically able. Additionally, NYS DMV requires all significant accidents are reported to it. Always call the police to the scene if there are injuries of any kind, no matter how seemingly minor.
Proof-wise, it is best to have the police at the scene. The only advantage to not calling the police is to avoid reporting the accident to your insurance company. An at-fault driver can tell you at the scene that he/she will pay for the damage and accept responsibility, and then when he/she reports it to their insurance company, the story changes so drastically that you seem to be more at fault than you were. Additionally, at the scene, other drivers may seem willing to pay for the damage, and then later heavily dispute your estimates. The result could be that you must report the accident to your insurance company anyway because you can't come to an agreement. At that point, you have to hope an at-fault driver won't distort the facts. Furthermore, if you aren't given his/her proper contact information, if they stop answering the phone, you may be unable to locate them. Now you must go through your insurance company anyway; in the worst-case scenario, you will have nobody to take responsibility for their actions.
In the event you are in a minor fender bender, you may wish to settle it between drivers, without police involvement. This is where the property damage is so minor, that the deductible will likely exceed the cost of repairs. However, be sure to have the other parties release you for all claims of liability in the event you pay for someone else's damages. Never pay for someone else's repairs in cash. Do not pay the autobody shop directly without proof that those funds were supplied by you. Even if you do pay the shop directly or pay the other party with a check, still make sure that they release you from all other claims of liability. Your attorney can draft a legally binding document that will protect you from a future lawsuit or insurance claim.
For a complimentary 30-minute consultation with the Law Offices of Jennifer G. Tocci, P.C., call (631) 343-7676 to schedule an appointment.
Attorney Advertising. This blog post is designed for general information only. The information presented at this site should not be construed to be neither formal legal advice nor the formation of a lawyer-client relationship. Prior results do not guarantee a similar outcome. New York State only.