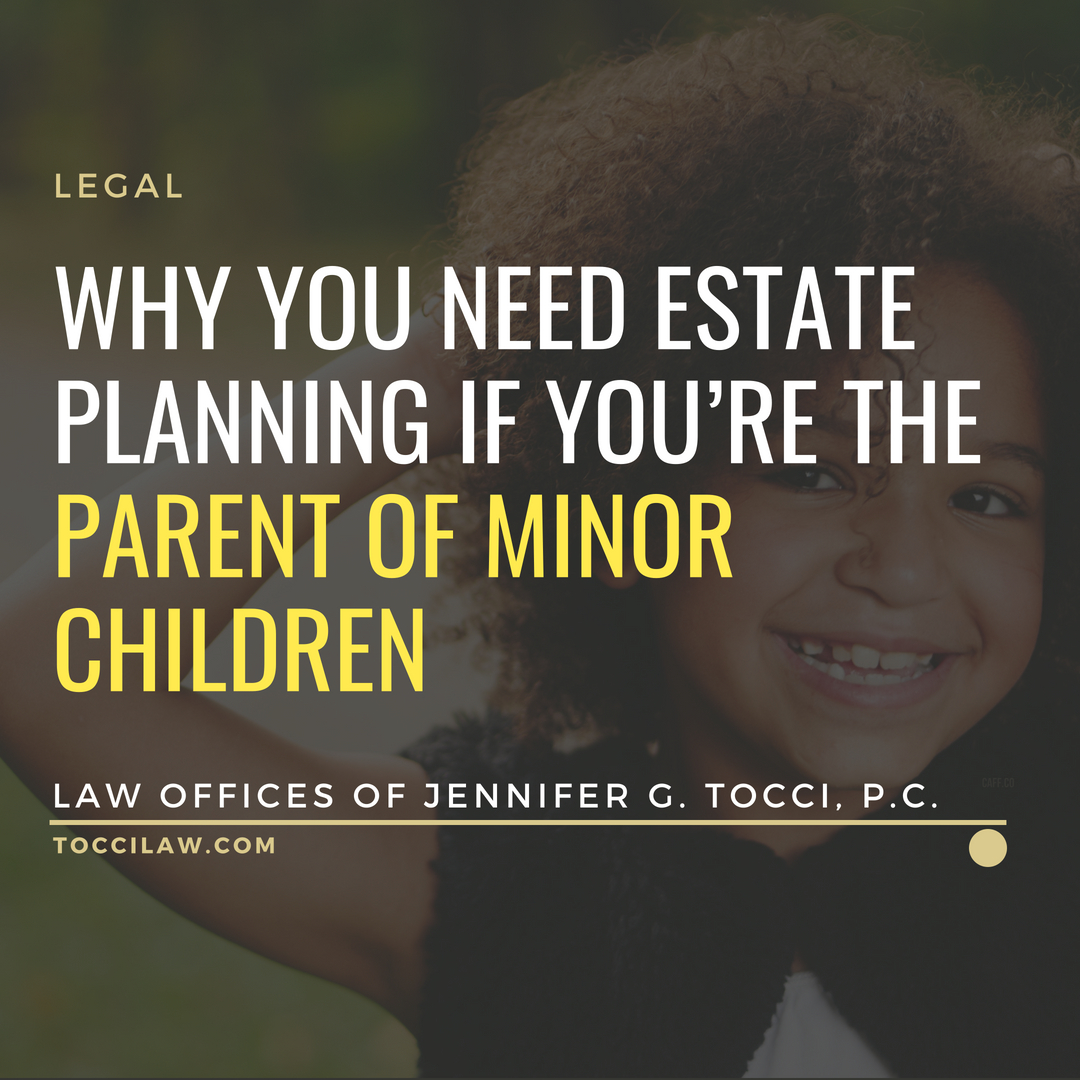 Do you have minor children? How should you estate plan?
Younger people tend to put off creating a Will and other estate planning documents because they believe it is less likely that they will need them in the foreseeable future. Additionally they feel that they don't own all of the assets they hope to acquire, don't have many assets, or are not yet married, and therefore estate planning isn't yet required. Regardless of your financial situation, if you're over the age of 18, you should have an estate plan for your property and legal documents specifying your wishes for emergency medical care. If you have minor children, the need for estate planning documents is more important because your failure to plan could greatly affect their lives.
Who will take care of your children if you die or become incapacitated?
Once you have children, an estate plan is imperative, not only to ensure who will inherit your property and how, but to designate who cares for your children if you die or become incapacitated. It is vital to have the proper documents nominating legal guardians for your minor children in order to protect their happiness, safety, and wellbeing. Without documents expressing your wishes, in the event of your death or incapacity, individuals who are seemingly fit to raise your children under the law could be doing so. The courts will appoint the guardian for your minor children if you do not. This is costly, and could cause the assets your children should be inheriting to go towards payment for court guardianship proceedings. Choosing a guardian for your minor children in the event of your death or incapacity is crucial when their other parent will not able to take care of them. Your children's other parent may not be legally fit for parenthood. Your children's relatives may be deemed unfit by the court. Two sets of grandparents (or any relatives) could battle in court over the custody of your children. Absent an estate plan, a social worker will be assigned to evaluate and determine (at your expense) the best interests of your children. Don't assume that family members will be permitted to take care of your children in the event of a tragedy. Without an estate plan designating a guardian for your children, they could end up in foster care. The best way to protect your children in the event of your untimely death or incapacity is to make a plan with your attorney so their future isn't left to chance.
When you design your estate plan, you have flexibility and choice; you tailor your plan to fit your family and life situation. For example, you may designate a temporary guardian for short periods of incapacity and a different guardian for your children when you pass away. This will assist in instances where you are incapacitated or unable to care for your children, but will recover soon (for example, hospitalization for a serious illness you plan to recover from, or rehab for drug and mental health issues). You can grant your chosen guardian the power to pick your children up from school, gain access their healthcare information, make emergency medical decisions, etc.
If your minor children are your heirs, why do you need estate planning? Won't they just inherit everything?
If you pass away when your children are minors, unless you make a Will to the contrary, there will likely be property they are entitled to inherit. [Sidebar: in some situations, your spouse (or others) will inherit all of your property.] Under the law, children cannot govern the property they inherit until they reach majority age. You may wish to create a trust and designate a trustee to administer and protect their inheritance. If you do not create a proper estate plan, the courts will decide who manages your children's inheritance; this costs money and time, and could potentially lessen your children's overall inheritance amount. Parents find it gives them peace of mind to designate a trustee to manage their minor's property until they reach eighteen, instead of allowing the law to decide for them. Additionally, when you create a trust, you are in control of certain provisions, beyond nominating a trustee; you can express your wishes beyond who manages the property. For example, you can extend the age at which your children will receive their trust property. Many parents feel their 18 year olds will not yet be mature enough to manage money or property responsibly. Trusts can specify that children be given all trust property at a later age, such as 21 or 25.
If I am married, do I need to create an estate plan to protect my minor children? Won't my spouse take care of everything?
Even if your children have another parent, estate planning is still essential. Life is unpredictable and there could be unfortunate and tragic situations where you and your child's other parent pass away in the same incident (i.e.: a car accident). Thinking you're protected because your children have another parent will not help you in this situation. If you are married, but you are not married to your minor children's other parent, there could be issues as to who inherits what. Even though you may not need to nominate a guardian if your children have another parent, there will still be inheritance provisions you wish to put in place. [Sidebar: this is assuming you pass before their other parent, because if the other parent passes first, before you create your estate plan, your children are unprotected.]
Don't leave what happens to your family at the time of your death or incapacity to the courts. At the Law Offices of Jenifer G. Tocci, P.C., we assess your entire life situation, family structure, your potential needs and your desires before advising you and designing your personalized estate plan. If you wish to discuss your estate plan and how you can protect you, your family, and your assets we invite you to schedule an appointment with us (631) 343-7676.
Attorney Advertising. This blog post is designed for general information only. The information presented at this site should not be construed to be neither formal legal advice nor the formation of a lawyer-client relationship. Prior results do not guarantee a similar outcome. New York State only.